armia amerykańska rocznie zużywa około 200,000 sztuk opon do humvee – wojskowego pierwowzoru hummerów.
humvee są świetnie opancerzone, ale na kołach nadal mają prawie zwykłe opony. prawie zwykłe – przeżyją przestrzelenie i jazdę bez powietrza. ale nie za długą i nie za szybko. a i przestrzelina powinna być raczej mała.
a to jest już poważany problem – w czasie misji typu irak, afganistan czy cokolwiek tego typu różnica między mobilnością a jej brakiem to także różnica miedzy życiem a śmiercią.
rozwiązanie wymyśliła pewna mała firma z wisconsin.
wymyślili mianowicie koło bez zamkniętej, pompowanej przestrzeni: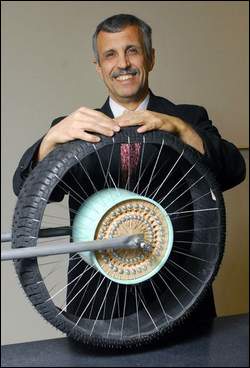 tego typu opony już były. to co wyróżnią tę to fakt, że podobno uporano się z wszystkimi problemami z tego typu sprzętem. co z tego wyjdzie? zobaczymy. ja jestem pełen optymizmu – jeśli w tym roku miałoby to wejść do wojska, to za jakieś 2-3 pojawiłoby się w samochodach cywilnych. a to może oznaczać, że szybciej pojawi się rozwiązanie problemu dziur w drogach niż nasze ekipy rządzące te dziury usuną.