było o lodówkach. było o kaloryferach. to teraz pora na wannę.
firm kohler zrobiła wannę. nie jedną  🙂 ta o której piszę jest inna niż wszystko co do tej pory widziałem.
jak powiem, że jest poświetlana, czy, że jest zaprojektowana tak by woda się z niej bezpieczne wylewała – to w ogóle nie odda idei, sensu i piękna tego urządzenia.
to może pokażę: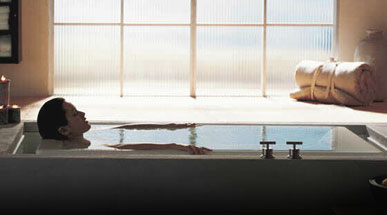 podoba się? na stronie producenta jest też filmik pokazujący jak to działa – w tym dosyć (heh) nowatorski sposób nalewania wody – niby nic, ale ma więcej stylu niż wszystko co w castoramie czy innym leroy'u razem wzięte.