to jest wykres wartości akcji pewnej firmy: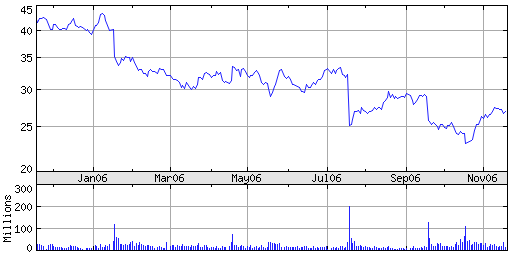 jak widać – sporo w dół. ostatnio "senior vice president" rzeczonej firmy wysłał memo do managerów firmy informując o jego poglądach. w tym o tym, że w/g niego firma powinna zwolnić do 20% ze swojej ekipy prawie 10000 pracowników na świecie.
rzeczony senior vice president stwierdził, że firma nie ma pomysłu na rozwój starając sie być wszystkim na raz, kupując bez opamiętania inne firmy, mając jednocześnie sporo problemów wewnętrznych – przerosty biurokratyczne, pokrywające się kompetencje, brak jasnej struktury i podziału odpowiedzialności.
jaka to firma ma takie problemy? yahoo. kiedyś cudowne dziecko. firma która obronną ręką wyszła z pierwszej "bańki internetowej". a teraz – problemy. oczywiście – firma jest olbrzymia. z tej wysokości spada się długo, więc mają trochę czasu na poprawę sytuacji. ale czy na pewno zdążą? jako fana google'a, los yahoo jest mi praktycznie obojętny. ale jednak smutno patrzeć na problemy legendy.